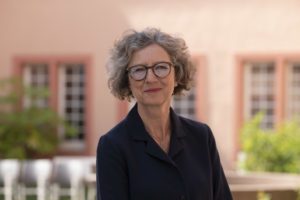 Anja Müller-Wood was appointed professor of English Literature at Johannes Gutenberg-Universität in 2003, after having studied and worked at Philipps-Universität Marburg (Ph.D. 1995) and the University of Trier ("Habilitation" 2002). Her main areas of research are the literature and culture of early modern England (Jacobean tragedy, Renaissance comedy, theatre culture in general, religious identities, literary aesthetics) as well as twentieth- and early twenty-first-century English literature. These specialisations are illustrated by her monographs Angela Carter: Identity Constructed/Deconstructed (1997) and The Theatre of Civilized Excess: New Perspectives on Jacobean Tragedy (2007) and numerous articles in international peer-reviewed journals and book collections, covering topics such as representations of violence in early modern drama and contemporary Anglophone literatures; identity; history, historiography and memory.
An overarching interest bringing together these diverse topics is the reception of literature, especially the question of how authors, by using a particular style, exploit cognitive predispositions on the part of the readers. She is also working on the nature of narrative and literary form more generally. These concerns are also reflected in her long-standing interest in exploring connections between literary scholarship and linguistics. Having cooperated repeatedly in the past with linguist colleagues in research and teaching, she founded the interdisciplinary Graduate Research Group Literary Linguistics with Prof. Anneli Sarhimaa in 2009, as well as, in 2010 the DFG-funded Open Access International Journal of Literary Linguistics.
She is currently involved in interdisciplinary research frameworks on "sacralisation" and, as a member of the Mainz Forschungsplattform Frühe Neuzeit, on early modern conceptualisations of "the nation".
Anja Müller-Wood is a mentor of the  Studienstiftung des Deutschen Volkes.
Publications -  Previews