Research Professor, Gutenberg Forschungskolleg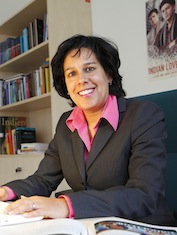 Professor and Chair of American studies from the 19th to the 21st century with an emphasis on contemporary American literature and culture as well as transnational American studies. She received her doctorate (1999) as well as her Habilitation (2003) from the University of Mainz. From 2000 to 2002, she was a visiting scholar at the University of California, Berkeley (Emmy Noether Grant of the German Research Foundation). From 2004-January 2010, she had the position of a full professor of American studies at the University of Siegen. As part of the Johannes Gutenberg University's program of excellence, she received a call for an American studies professorship and a five-year research fellowship from the Gutenberg Forschungskolleg (Gutenberg Research College) to pursue a number of interdisciplinary projects, including the founding of a Center for Comparative Indigenous Studies at Mainz. With her team of researchers she will substantially contribute to joint research projects in the humanities and social sciences (ZIS, Socum, Historical Cultural Sciences). At the end of the fellowship she will take over the chair for American studies.
Her main areas of research are the American Renaissance, Naturalism, ethnic American literature, Life Writing, Critical Race Theory, Whiteness Studies, South Asian Diasporic Film and Bollywood Cinema.
She is co-editor of the "Reihe Siegen" (published by Universitätsverlag Winter), and a reader for journals, such as Amerikastudien/American Studies. Among her recent publications are Ethnic Ventriloquism: Literary Minstrelsy in Nineteenth-Century American Literature (Heidelberg: Winter, 2008) and the edited volume Virtually American? Denationalizing North American Studies (Heidelberg: Winter, 2009). She is currently working on a study which explores the intersections between naturalism and naturalization at the turn of the 20th century.