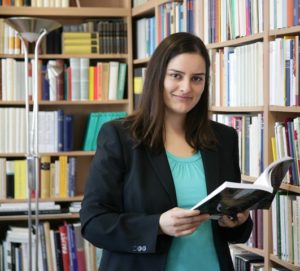 Dr. Sarah Bertram is a qualified teacher of English and German with several years of teaching experience at vocational schools (Berufsbildende Schulen, Sek I + II). She received her Master's degree and first state examination at the University of Wuerzburg where she also worked during and after her studies as a tutor and research assistant. During that time she also spent a year at Royal Holloway, University of London.
After completing her doctoral degree, which was funded by "Friedrich-Ebert-Stiftung", in American Studies at the University of Mainz, she concluded her teacher training with the second state examination in Mainz/Ingelheim.
At the moment she's teaching at "Gustav-Stresemann-Schule" in Mainz. Moreover, she attended a two year advanced training in "School Management" at TU Kaiserslautern. She also has been involved in teaching the use of digital media in the EFL classroom and contributing to school textbooks.